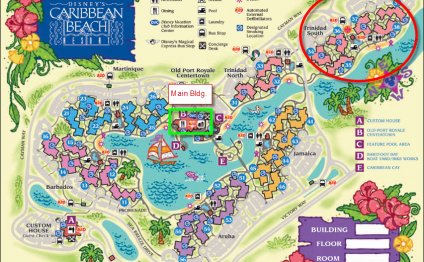 Caribbean Beach Resort Pirate rooms
Caribbean Beach Resort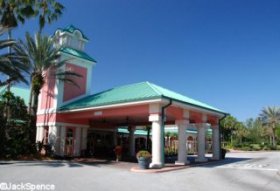 I recently spent the night at the Caribbean Beach Resort in one of the new pirate themed rooms. In this blog, I'll be discussing the overall resort and describe this new experience in Disney accommodations.
When Michael Eisner was hired by shareholders Sid Bass and Roy E. Disney in 1984, he was given the directive to develop the Disney World property. One of the first things he did was order two new resorts be built, the deluxe Grand Floridian and the first moderately priced Disney hotel, the Caribbean Beach Resort.
Located south of Epcot, the Caribbean Beach Resort is comprised of 33 guest houses clustered together in villages. Each village represents a distinct Caribbean style inspired by and named after the Caribbean islands of Trinidad, Martinique, Barbados, Aruba, and Jamaica. Each two-story building has sixty-four, 300 square foot rooms. Each room has two double beds and can sleep four.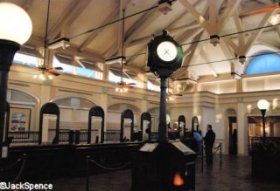 The first stop for guests when arriving at the Caribbean Beach Resort is the Custom House. This is where everyone checks in and receives a slew of interesting paperwork describing the resort and the rest of Walt Disney World. At this time, you'll be given your room keys and directions to your room. If you arrive before your room is ready, you'll be given a phone number to call to check on status.
The heart of activity at the Caribbean Beach Resort is Old Port Royale Centertown.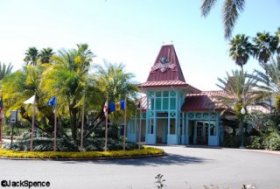 Shopping is available here at Calypso Trading Post. A large collection of Disney merchandise is on hand as are other tropical gifts. Adding to the already strong West Indies décor, pirate theming has been added.
One of the truly unique items for sale here is a coconut, ready to be mailed to friends and family back home. This is the genuine article already stamped for delivery to anywhere in the U.S.. All you have to do is add the address.
Old Port Royale Centertown is also where you can grab a bite to eat. For counter service meals, try the Market Street Food Court. This festive avenue features a number of stalls selling everything from donuts to pizza to pan seared salmon. Seating is provided in one large and several smaller areas. Brightly colored walls and overhead fans help you believe you're in a tropical locale.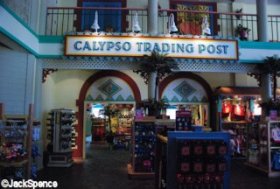 If you're in the mood for a slower paced supper, try Shutters. This table service restaurant is located at the far end of Market Street and offers a nice relaxing atmosphere in one of its several small dining rooms.
Just outside of Old Port Royale Centertown is a pleasant area where you can sit and enjoy a cocktail from Banana Cabana.
In the mood for some boating, then head for the Barefoot Bay Marina. Here you can rent a Sea Raycer for a zippy ride or a pontoon boat for a more relaxed experience. The pontoon boats, now decked out with a pirate theme, are especially nice for groups. Have your lunch packaged "to go" at the Market Street Food Court and enjoy a meal out on the water.
Also scattered around this 45 acre lake are a number of white sandy beaches. This is the perfect spot to work on your tan (don't forget the sunscreen) or read that best-seller everyone has been talking about. Beach chairs and hammocks are waiting for you.
The swimming pool at the Caribbean Beach Resort was completely remodeled a couple of years ago. It now looks like a Spanish fortress guarding some far off tropical harbor. The pool also offers "zero-entrance" for easier access into the water. A separate area for the younger set is nearby. A mock shipwreck and slide is the centerpiece of this play area.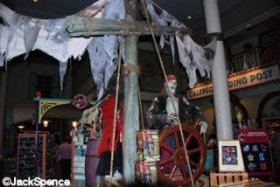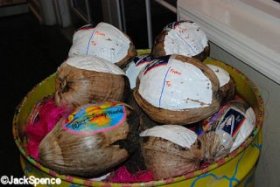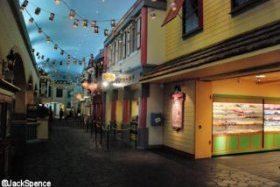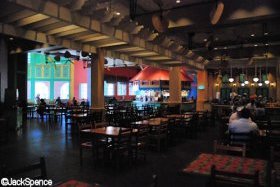 Share this article
Related Posts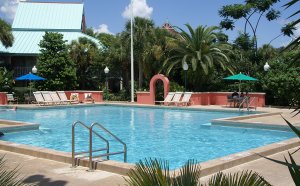 February 13, 2015 – 04:42 pm