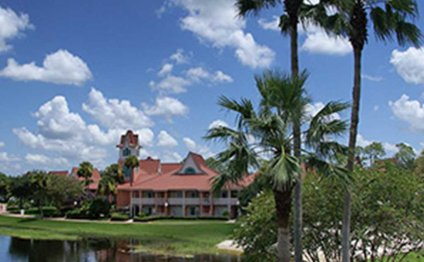 Reviews of Disney Caribbean Beach Resort
Caribbean Beach Resort
Moderate Resort ... more An immense Spanish fortress-themed pool - double the size of the original one - gives families even more reason to visit Disney's Caribbean Beach Resort, a lushly landscaped Epcot area favorite since 1988. At the 2, 112-room, 200-acre Moderate-category resort, you can escape to the islands, which are represented in six pastel-hued villages, from Aruba to Martinique. At the center of it all is Old Port Royale, a popular gathering spot with a food court, sit-down restaurant, gift shops and an arcade. Just outside is the resort's showcase water play area, with slides, cannons and zero-entry access. Along with an adjacent Pirate Ship water playground that's just right for little ones, it makes a major splash with families.
Bike rentals are available at Barefoot Bay, a 45-acre lake with white, sandy beaches. If you're so inclined, you can take a foot or pedal-powered trip around a scenic 1.4-mile lakeside promenade.
"Finding Nemo"-themed rooms were added in 2008, and if you've got an aspiring buccaneer in your party, an overnight in a Pirate-themed room (located furthest from the resort hub) is sure to please, if you don't mind a hike.
When it's time for a theme park break, parents can pull up a chair at the Banana Cabana and sip a fruity umbrella drink, or hang out in a hammock on a beach and watch the sun go down over Barefoot Bay. On select days, kids can ship off on a pirate-themed Adventure Cruise, one of the best kids-only excursions offered on Disney properties.
Our Editor Loves
Pirate-themed pool and rooms
Water play area for kids
Tropical island ambiance
Family Interests
All Inclusive
Beach
Bicycling
Golf
Museum/Cultural
Theme Parks
Water Sports
Water Parks
Family Amenities
Babysitting
Connecting Rooms
Cribs
Free Wi-Fi
Game Room
Kids' Pool
Laundry Service
Meal Plan
Onsite Dining
Refrigerator
Pool
dboucher66
Stayed here in 2013 and this past week for the second time. Asked for a specific building due to Happy Tour we ran into last year. Arrived to find we were in a different building then confirmation had us in. (traveled with 14 fami...
Read full review
medinar
It was so much more than we could ever have expected. Grounds were stunning atmosphere was awesome, people were amazing. We didn't want to leave. Can't wait to be able to go back. Disney was the best also so friendly clean and gre...
Read full review
Rates
As a TripAdvisor company, we searched
200+
sites to find the best hotel prices.
Enter dates for best prices
Compare best prices from the top travel sites
Rooms
Standard Rooms
Beyond a tropical flair, what sets this resort apart from others is the availability of themed accommodations. Standard rooms sleep four, plus a crib for guests under the age of 3, and are located in six two-story island villages. Since 2008, most standard rooms have been refurbished in a "Finding Nemo" theme. The subtle design is a nice departure from the former flowery décor, and features images of tropical fish and fauna in bedcovers, wall borders and carpets. Pirate-themed rooms debuted in 2009 (surcharge) and are outfitted in full privateer gear, from beds that look like pirate ships to privacy curtains imprinted with skull and sword images.
Rooms located closest to Old Port Royale (Trinidad North and Martinique) are considered "preferred" accommodations and come with a surcharge for convenience (yes, it's definitely worth it), while Barbados and Trinidad South (the block where pirate rooms are located) are furthest from the resort hub, leaving families with a choice of a pirate experience or proximity.
All guestrooms feature two queen beds or a king bed (surcharge), a TV and complimentary Wi-Fi. A table with two chairs provides a comfortable spot for in-room dining, and in standard rooms, a storage bench with a back offers additional seating. In addition, rooms contain a coffeepot and a mini-fridge. A vanity area contains two sinks, as opposed to the one available at Value resorts, and a privacy curtain separates it from the bedroom, meaning part of your party can shower early while others sleep in (assuming they're not light sleepers). Complimentary Pack 'N Plays and bed rails can be delivered upon request, and connecting rooms are available.
If you want to see water, expect to pay a surcharge. Although you can request a "lake" or a "pool" view, a specific outlook can't be guaranteed.
Share this article
Related Posts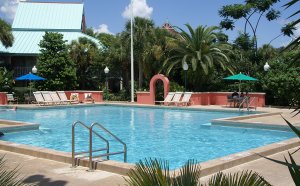 February 13, 2015 – 04:42 pm