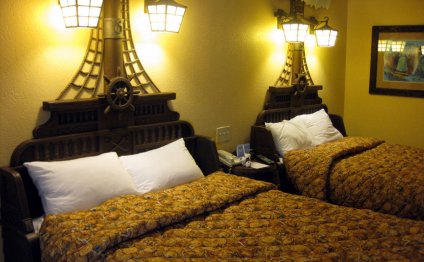 Disney Caribbean Beach Resort Pirate rooms photos
Caribbean Beach Resort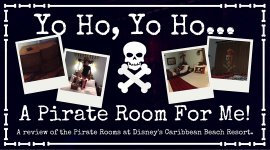 After reading mixed reviews, my family decided to try out the pirate-themed rooms at Disney's Caribbean Beach Resort. With seven and nine-year old boys who love Pirates of the Caribbean we figured we couldn't go wrong, and we didn't! There were some pleasant surprises and some drawbacks to the room. Here is what we found, and you can decide if the pirate room is right for you, matey!
The Good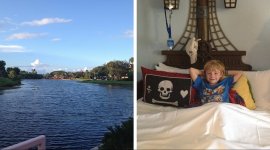 Theming. The boat-shaped beds, barrel-shaped tables, cart-shaped dresser, suitcase chest, Pirates of the Caribbean artwork, pirate boat shower curtains, old lantern light fixtures, and nautical-themed rug were all great fun. Perhaps, my favorite was the privacy curtain between the bathroom and bedroom area which featured a pirate skull and swords. At night, when the lights in the bedroom were off but the bathroom light was still on, the pirate skull seemed to come alive. Needless to say, all of this sparked my boys' imagination. They were sword fighting across the beds and putting on pirate shows with the accessories they purchased in the resort gift shop. For a few days, we were living with two little pirates!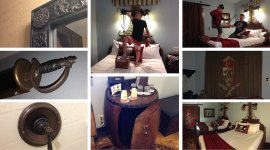 Picturesque views. The Trinidad South building in which the rooms are located is by the water with beautiful views of lily pads, tropical trees, sand, and yellow flowers. The scenery will truly make you feel like you are at a Caribbean beach resort.
The Bad
The beds. If you are looking for spacious king-size or queen-size beds, don't book a pirate room. The boat beds are the size of double beds at most. Fun for playing but not as much for sleeping if you are sharing a bed.
The distance. When we were reading reviews before we left for our trip, people's main complaint about the rooms was their distance from the main resort areas. The pirate rooms are about a ten minute walk from the pool and dining areas. While we loved the stroll by the water and the extra exercise, people with small children or health problems may not appreciate the walk.
Share this article
Related Posts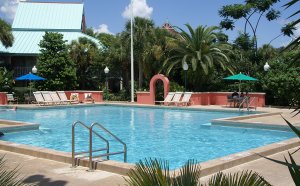 February 13, 2015 – 04:42 pm