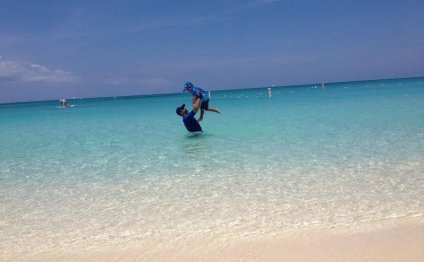 Westin Grand Cayman Seven Mile Beach Resort
Grand Beach Resort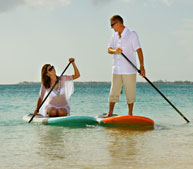 Red Sail Sports is Grand Cayman's premier dive operator with 28 years serving divers in the Cayman Islands. We welcome you to dive some of the most pristine reefs in the Caribbean Sea. Grand Cayman's aquatic playground is thrilling above water too, why not cruise around in a kayak or get up to speed on a waverunner? Our fully stocked watersports centers offer activities to suit the whole family.
Dive
With over 160 charted dive sites and an abundance of friendly stingrays, tarpon and eels, Cayman's marine life is legendary. So let Red Sail Sports help you explore Cayman's pristine reefs; with a reputation standing for excellence, quality gear, variety, and personal service, you're sure to make some great memories to last a lifetime. Daily two-tank and one-tank dives are available for certified divers.
If you are not a diver, why not take the plunge on your Grand Cayman vacation?
Resort Course
Learn to dive in one day and discover the beauty of Cayman's underwater world under the guidance of one of our professional instructors. The course includes a 2 hour pool and theory session, an afternoon 1-tank boat dive, all scuba equipment and instruction.
Time: 8:00am – 10:00am pool session + 2:15pm – 4:30pm dive
Duration: 2 hrs pool/classroom + 2 hr 1-Tank Dive in Afternoon
Days: Daily
PADI Open Water Diver Course
Learn to dive in Grand Cayman! The PADI eLearning Open Water Course is a 3 day program designed to provide you with the knowledge and skills needed to become a certified diver. You will complete the theory at home and when you arrive in Grand Cayman Red Sail Sport will take you through the in-water training.
Time: Daily 8:15am – 4:00pm
Duration: 34 Days
Days: Scheduled Upon Request
If you haven't been diving for a while, don't worry. We offer refresher courses and PADI scuba tune-up courses to help you get reacquainted.
Sail
Explore Grand Cayman in style aboard one of Red Sail Sports 65′ luxury catamarans. Daily excursions take you to snorkel some of Grand Cayman's most iconic landmarks, Stingray City Sandbar, Kittiwake wreck and more…
Breakfast with the Rays
Time: 7:30am – 11:30am
Duration: 4 hours
Days: Tuesday and Thursday

Enjoy an early morning sail aboard a luxurious 65 foot catamaran to the Stingray City Sandbar with a light continental breakfast served on board. Miss the crowds be the first to have the stingrays to yourself. A second snorkel stop is also included at a beautiful coral reef.
Stingray Sandbar & Reef Sail
Time: Varies – See Dive Shop on property for details
Duration: 3.5 hours
Days: Monday & Wednesday-Sunday
This afternoon trip makes a first stop at the exciting Stingray Sandbar (3-4 feet deep), where guests will be able to stand or snorkel with friendly Southern Stingrays for approximately 45 minutes. On our second stop you can snorkel off beautiful coral reefs with brightly colored fish. There is a full cash bar on board and snacks are provided. Snorkel gear is also included. Don't forget towels and plenty of sunscreen.
Stingray Sandbar & Rum Point
Duration: 6.5 hours (5.5 hrs Sunday)
Time: 8:30am – 4:00pm (Thursday) 10:00am – 3:30pm (Sunday)
Days: Thursday & Sunday
Take in two of Grand Cayman's best attractions in one day aboard one of our luxury 65′ catamarans. Enjoy a visit to Stingray Sandbar where you can play with the Southern Stingrays, and then head over to Rum Point where you can hang out, choose to have lunch or enjoy the full range of Red Sail watersports.
Kittiwake & Reef Sail
Time: 1:00pm – 3:30pm
Duration: 2.5 hours
Days: Tuesday & Thursday
Take a cruise along Seven Mile Beach on one of our luxurious catamarans to some of the best snorkeling on the island. The catamaran stops for snorkeling at two locations. The first stop takes you to Cayman's newest attraction the USS Kittiwake Wreck and the second a beautiful coral reef where guests can enjoy the plentiful marine life. A full cash bar is available on board and snorkel equipment is provided.
Dinner Sail
Time: 5:30pm – 8:45pm
Duration: Approximately 3 hours
Days: Tuesday & Thursday
Dine under a thousand Caribbean stars on this memorable and romantic evening. Enjoy your favorite cocktail from the cash bar as you watch the sun go down. The catamaran then anchors for a three-course dinner brought to you by the talented chefs of the Beach House. Each evening has a different theme, stop by Red Sail Sports to view the menus. The Dinner Sail is an evening not to be missed during you Grand Cayman vacation.
Watersports at the Westin
Have a fun-filled day at the beach with Red Sail Sports beach toys. We offer activities to suit every member of the family. Choose from waverunner safaris, sailing, stand-up paddleboarding, snorkeling and more! Full list of activities:
Sunsearcher Foam Floats
Banana Boat Rides
Kayaking
Stand-Up Paddle Boarding
Wakeboarding / water-skiing
Speed Boat Charters
Wakeboarding / Waterski Lesson
Waverunners
Waverunner Snorkel Safari
Parasailing
Hobie Cat Wave
Hobie Cat Sailing Lessons
Exclusive for Westin guests – Stand-Up Paddle Board Clinic
The fast-growing sport of stand-up paddleboarding (SUP) is a fun and easy way to play on the water. Paddleboarding offers an amazing full body workout and since you're standing at your full height you will enjoy an amazing view of Seven Mile Beach, reefs, marine life and whatever is passing our beautiful horizon. It's the closest thing to walking on the water!
Red Sail Sports offers the Westin's guests a free daily SUP clinic, teaching the basics of the sport, explaining how to safely use the equipment and to propel yourself with maximum efficiency. Classes start at 9am and advanced booking is required as these classes have proven to be popular! Just visit Red Sail Sports located on the beach, exit the lobby and turn right.
Once you have mastered the basics Red Sail Sports offer paddleboards available for rent. You can explore or exercise in solitude or with friends depending on your mood. We also offer SUP Yoga classes and SUP Snorkel Safaris.
There will be a $45.00 per room/per day resort charge added to the room rates. View Resort Charge added value >
Share this article
Related Posts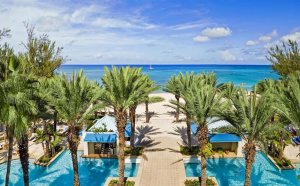 September 23, 2022 – 07:29 am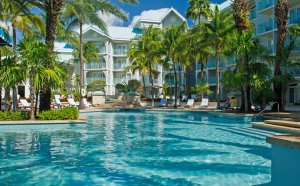 February 16, 2021 – 07:06 pm