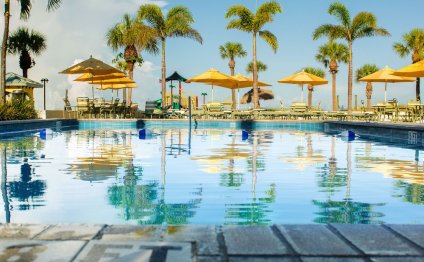 Sirata Beach Resort All Inclusive
All Inclusive Resorts
Learn more about our resort in St. Pete Beach by reading some of our most frequently asked questions - and our answers:
Do you have a Resort Fee?
We do not have a Resort Fee. Rather than charging a Resort Fee, we allow guests to choose which services they would like to use when staying with us.
Do I have to pay for parking?
We have a low $8 overnight parking fee. There is a limit of one car permitted per room. Trailers, boats and motor homes are not permitted as parking on property is limited.
Do you offer shuttle service to and from the airport?
Tampa International (TPA) is a short 27 miles away. Contact Resort Transportation Services at 727-363-5171 for any of your transportation needs. Whether you require airport service or a ride to local attractions, resort transportation will provide you with a great personalized service while you stay with us. .
Are you an all-inclusive property?
We do have all-inclusive packages available with a four-night minimum stay. Inquire with a reservation agent for more details.
Do you have live music?
Yes, at Harry's Beach Bar and Rum Runners Bar and Grille on the weekends. Daily during season.
How late does the beach bar stay open?
Beach bars have seasonal hours, however Rum Runners is usually open until one am. serving a late nite menu.
Do you have free breakfast?
Breakfast is available at Compass Grille and Rum Runners Bar & Grille, although it is not complimentary.
What are your pool hours?
Pools and spas are open from dawn to dusk. Pools are for our guests, so we request that you wear a provided wristband during pool use.
Are pools handicap accessible?
Yes, there is an ADA handicap pool lift available. Please ask staff for assistance.
Are the pools heated?
Two of our pools are heated. The one that is not is marked with signage.
Do you provide beach/pool towels?
Yes, two towel huts are available on property.
Do you have beach/pool chairs?
There are pool chairs available at each of our three pools on a first-come, first-serve basis. Beach cabanas are available for $25 per day. Pool Cabanas at the South Pool are also available for rental. Please see the towel hut attendant for details and pricing.
Do you have handicap accessible rooms?
Yes. We offer Traditional and Suite options.
Is there a door for the bedroom in the suite?
All of the Suites in Building 4 have a door to separate the bedroom from the living room. The Building 1 Suites, Executive King and Queen Suites, have a hallway connecting the bedroom and living room instead of a door.
Do you have to pay for Wi-Fi in the room?
Free Basic Wi-Fi is adequate for light Internet use such as checking email and web browsing on basic websites. The coverage is quite good in the common areas, definitely including the bars. Upgrading to Premium is recommended if you have higher-bandwidth needs like streaming videos, or for example if you have auto-play enabled for videos on your Facebook newsfeed. Premium Wi-Fi access is available for $12.95 per 24-hour period.
Do you have to pay to use the Business Center?
No, the use of the Business Center is complimentary. We do ask that you limit your use to 15 minutes.
Do you allow grills?
Grills are not permitted on property or on the beach per city ordinance.
Do you allow pets?
Small dogs and cats are permitted in pet friendly areas of the resort. There is a 50-pound limit per room with two pets/40-pounds for one pet. Maximum of two pets per room at our pet-friendly St. Petersburg hotel; some breeds may be restricted. There is a limited number of pet-friendly rooms, and arrangements must be made prior to arrival. Please see our for full details, necessary documents, deposits and fees.
Do you offer late check-outs?
When available, there is a $20 charge until 2 p.m. and $40 until 4 p.m.
Do you offer early check-in?
Yes, there is no charge, however it is subject to availability.
What time is check-in?
4 p.m.
What time is check-out?
11 a.m.
Do you offer a Return Guest discount?
Yes, please check with a Reservation Agent for more details.
What is the cancellation policy?
We require cancellation 48 hours prior to the arrival of the reservation to avoid a penalty of one room night and tax.
If I have a full pre-pay reservation and need to cancel, will I get my money back?
No, this is considered a non-refundable reservation.
Do you have a spa?
Our Concierge can assist with information, booking and transportation to day spas in the area.
Do you offer massages in the room?
Our concierge will provide you with a phone number for a masseuse to schedule an in-room appointment.
Can I pay for a balcony?
No, however certain room types have balconies already guaranteed.
Are balconies a guaranteed?
The Executive Suites guarantee balconies.
Do you have roll-away beds?
Yes, they are $15 per night.
Do all of your rooms have microwaves?
Studios and Suites have microwaves, but it isn't guaranteed in our Traditional Rooms. If your room type does not have one, you have the option to rent a microwave for $10 per day based upon availability.
Do all of the rooms have refrigerators?
Each room will have either a mini- or full-size refrigerator.
Do you provide dishes within the suites?
Yes, a place setting for four is provided in suites with mini kitchens.
Can I get a group rate if I book more than one room?
Group Blocks start at ten or more rooms per night. Please contact a Group Sales Manager at (866) 642-7332 for more detailed information.
Do you have resort fees?
No, any ancillary fees are noted separately so that guests may choose what services suit their needs.
Do you have laundry facilities?
Yes, a coin operated laundry facility is available. Dry cleaning services are also available.
Do you have a fitness center?
Yes, we have a well-equipped fitness center.
Do you have a restaurant?
We have three dining options on property. Compass Grille is a full service restaurant with inside seating, offering Breakfast, Lunch and Dinner; open daily from 7 a.m. to 10 p.m. Harry's Beach Bar and Rum Runners Bar & Grille offer casual menus served poolside and beachfront. Hours for food service at Harry's Beach Bar are 10:30 a.m. until 9 p.m. daily. Rum Runners Bar & Grille serves breakfast daily from 8 - 11 a.m., and lunch and dinner from 11 a.m. to 9 p.m.
Share this article
Related Posts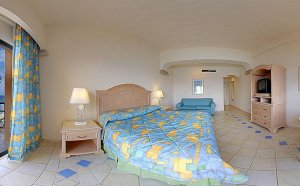 February 16, 2017 – 09:56 pm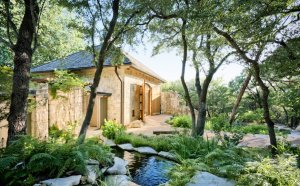 September 11, 2015 – 03:38 pm