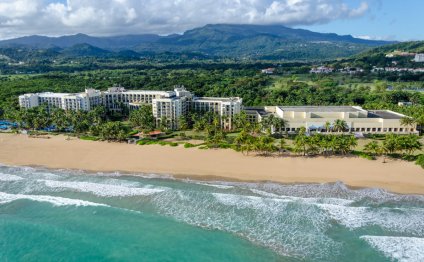 Wyndham Grand Rio Mar Beach Resort
Grand Beach Resort
This Rio Grande oasis is the perfect destination to discover the beauty and tranquility of Puerto Rico. Filled with warm tropical décor, friendly resort staff and spacious guest rooms, Wyndham Grand Rio Mar Beach Resort & Spa is sure to pamper and indulge every whim. This lush, 500-acre, beachfront property borders both the Puerto Rico rain forest (El Yunque) and two spectacular golf courses and boasts a secluded beach. There are countless views of the sapphire blue Atlantic Ocean, making our views the best of hotels in Rio Grande Puerto Rico near El Yunque.
Whether on a family vacation or a romantic couples retreat, Wyndham Grand Rio Mar Beach Resort & Spa features a multitude of activities to fill the days and nights. Guests can enjoy golf, tennis, lavish spa treatments and fine dining for all tastes at one of the ten on-site restaurants and lounges. Guests will not want to miss late night gambling thrills at the on-site 7, 000 square-foot, Rio Mar Casino.
New guestrooms and suites vibrantly redesigned to exude traditional PR architecture and thoughtful indigenous décor touches provide a welcome, private haven. Hallways now feature carpeting reminiscent of San Juan's blue cobblestone streets and guestrooms feature a refreshing color palette inspired by El Yunque's National Rain Forest. Plush fabrics, and preferred amenities, including a make-up/shaving mirror, complimentary WiFi, 42" flat-screen TV and in-room movies, add a superb finish to this truly one-of-a-kind vacation. Guests can enjoy the private balcony or patio for a little outside space to call their own.
Splurge and consider upgrading to one of the suites available at the hotel. Junior Suites with extra space and an integrated sitting and sleeping area or a Caribbean Suite with a living room with sleeper sofa, and one bedroom with a king-size bed. Atlantic Suites are a great choice as well where one can choose from one bedroom, one and a half bath or open an adjoining door and make this suite a lavish two bedroom, two and a half bath. Two sofas and a wrap-around balcony make this space very comfortable. Lastly, there is the Governor's Suite, and it's truly one of a kind. This massive suite features two bedrooms: one with a king-size bed and the other with two queen-size beds plus, two and a half bathrooms. A living room with two sofas and a dining area makes it a great choice for entertaining. A wrap around balcony ensures the view just never quits.
For those who must take care of business while in town, the resorts Oceanfront Conference Center is an ideal spot to host beachfront meetings and conduct business functions and is one of the largest in the Caribbean. The Business Center is available to help take care of all work related needs in order to stay connected. Add Caribbean flair to any special event or wedding, and say "I Do" in ultimate paradise, perfect for the big day, or honeymoon to follow.
Share this article
Related Posts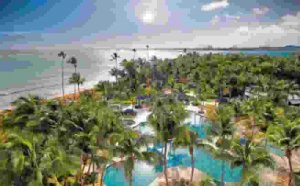 September 4, 2015 – 09:20 am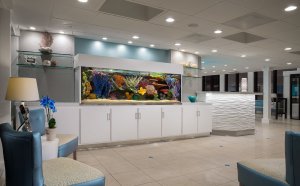 September 5, 2022 – 07:48 am