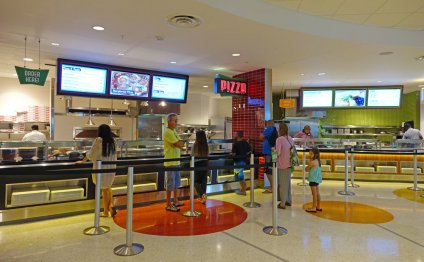 Cabana Bay Beach Resorts
Bay Beach Resort
If you're obsessed with vintage 1950s and 1960s designs, and finding a good value (we're guilty on both accounts) you may just fall in love with Cabana Bay Beach Resort, Universal's first on-site hotel aimed at the value and moderate markets. The mid-century modern aesthetic starts with the neon signage that welcome you outside, and continues inside with lots of windows, bright colors, and period-appropriate lighting and furniture. The designers were inspired by classic seaside hotels like the "doo-wop" Caribbean Motel in Wildwood, New Jersey, and Loews' original Americana Hotel in Bal Harbour, Florida. We think the resort would be right at home in the deserts of Palm Springs or Las Vegas, while our British friends say the decor reminds them of Butlin's Bognor Regis resort circa 1985.
Whatever Cabana Bay reminds you of, we think you'll like it. Kids will enjoy the 2 large and well-themed pools (one with a lazy river), the vintage cars parked outside the hotel lobby, and the amount of space they have to run around. Adults will appreciate the sophisticated kitsch of the décor, the multiple lounges, and the onsite Starbucks. We were very impressed with Cabana Bay and think it is an excellent choice for price- or space-conscious families visiting Universal.
The Rooms
Cabana Bay's closest competition in the Orlando area is Disney's Art of Animation Resort, and there are many similarities between the two. Both resorts have standard rooms and family suites. At 430 square feet per suite, Cabana Bay suites are about 135 square feet smaller and have only one bathroom. We found them well-appointed for two to four people per room (though not for the 6 Loews claims as their capacity).
Share this article
Related Posts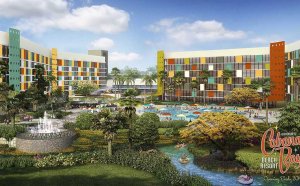 November 23, 2020 – 03:43 pm