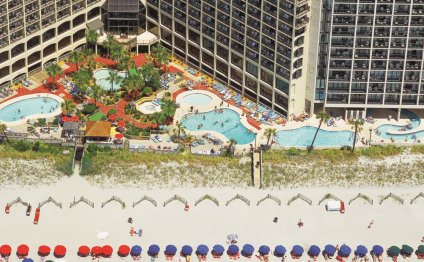 Beach Cove Resort North Myrtle Beach SC
North Myrtle Beach
Beach Cove Resort is a tropical oceanfront paradise in the heart of North Myrtle Beach, South Carolina and features these amenities for guests:
Water Features
Beach Cove Resort is full of water features for the whole family to enjoy. Complete with a long lazy river, outdoor heated pools and whirlpools, indoor pool and more, this North Myrtle Beach resort is the perfect place to relax, have fun and enjoy your family vacation.
Dining
Beach Cove Resort's dining options are plentiful. From the year-round breakfast buffet restaurant to a poolside beach bar, you won't go hungry during your vacation. Whether you are craving a burger and fries or looking to unwind with a beachfront margarita, Beach Cove has it all.
Recreation
Beach Cove Resort is the perfect place for those who want to stay active while on vacation. From an on-site racquetball court to an exercise room, Beach Cove's recreational amenities provide a great activity option for guests.
Additional Resort Features:
Gift Shop
Free USA Today Newspaper
Free Wi-Fi
Guest Laundry
Business Center
Free Covered Parking
Share this article
Related Posts