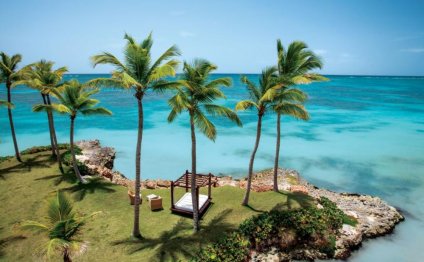 Beach Resorts in the Caribbean
Caribbean Beach Resort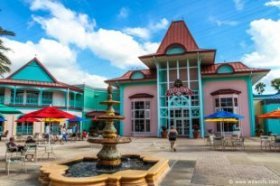 Disney's Caribbean Beach Resort Address:
900 Cayman Way
Lake Buena Vista, FL
407-934-3400
Check In: 3:00pm | Check Out: 11:00am
Number of Rooms: 2109
Category: Moderate Maximum persons per room: 4 (2 if booking a King room)
Room size: 300 Sq Ft.
Charge for 3rd and 4th guest: $15 per night / per guest
Credit Cards accepted: Disney Gift Card, Visa, MasterCard, American Express, Discover, JCB
At more than 200 acres, Disney's Caribbean Beach resort is the largest resort on Disney property. It's 2109 rooms are divided into five brightly colored villages representing different areas of the Caribbean. Trinidad, Martinique, Barbados, Aruba and Jamaica. The Custom House is where the main check in desk is located. The resorts 45 acre lake is 1.4 miles around and makes for a great walking/jogging track. In the middle of the lake, connected by bridge, is Caribbean Cay island which has a number of secluded spots to sit and relax, as well as a childrens play area. Old Port Royale serves as the hub of activity at the resort and its where you'll find several dining options, an arcade, and gift shop. The main pool and marina are located in this area as well. There are volleyball courts, boat and bike rentals, and even 'movies under the stars' to keep you enterained on those days when you choose to relax at the resort.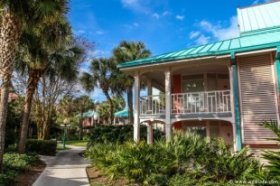 Caribbean Beach Rooms
The majority of rooms at the Caribbean Beach resort are themed after the Disney/Pixar film "Finding Nemo". Bright tropical colors with depictions of characters from the film add a fun vibe. Unlike the other moderate resorts at Walt Disney World, the Caribbean Beach resort has two double beds as opposed to two queen beds. The rooms here are also slightly smaller than the others at 300 sq. ft. (versus 314 sq. ft at Port Orleans French Quarter, Port Orleans Riverside and Coronado Springs). Rooms have flat screen televisions with convenient access to external video ports making it easy to connect a video camera or video game system. There is a mini-fridge available in the room as well as an iron and ironing board, and single serve coffee maker. The in-room safe in these rooms is large - large enough to hold a 15" laptop. There are two sink basins outside the shower/commode allowing one person to get ready while another one showers. A curtain divides this section of the room from the sleeping area.
Pirate themed rooms are also available at an additional charge of $35 to $50 per night over the cost of a standard room, depending on season. These rooms borrow from the "Pirates of the Caribbean" and feature headboards fashioned to look like pirate ships, with a wood barrel serving as the nightstand.
Preferred rooms are located closest to Old Port Royale and are located in the Martinique section in buildings 24, 25 and 26. In Trindad North - buildings 31, 32 and 33. These rooms are in close proximity to Old Port Royale. Rooms in other parts of the resort require a longer walk or use of the internal bus service to reach Old Port Royale.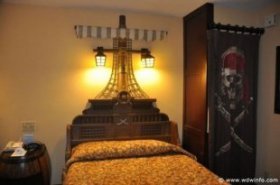 Room categories at the Caribbean Beach Resort are Standard View, Water View, King Bed, Preferred Room, Pirate theme room (Standard View) and Pirate Themed Room (Water view).
Caribbean Beach Dining Options
Old Port Royale is home to the Caribbean Beach Resort's food court (click here for the menu)which is open from 6am until midnight every day, serving breakfast, lunch and dinner. There are five counter service locations here, as well as one full service restaurant, Shutters, that is only open for dinner. The counter service options include the Grab-n-Go which has pre-made sandwiches, baked goods, snacks and drinks. There is also the Royale Pizza and Pasta Shop, Old Port Royale Hamburger Shop, Bridgetown Broiler and Montego's Deli. The layout of this food court is significantly different than at any other Disney resort - resembling a charming caribbean street theme that serves to further immerse you in the overall feel of the resort. An excellent assortment of food is offered, with Montego's Deli being among the best.
Shutters Resaturant has long been plagued by negative reviews for mediocre food and generally considered one of the lesser restaurants on property. However, our most recent experience at Shutters was surprisingly good. There is a new chef, significant changes to the menu, and the food we were served was delicious. The menu has a nice assortment of options for just about any taste - with some dishes inspired by the caribbean theme of the restaurant and the resort, and some dishes for the less adventurous. Prices are reasonable as compared to some other Disney dining locations.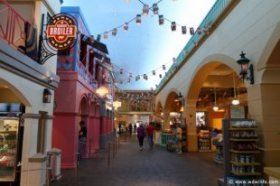 Room Service: Blue Runner Pizza Delivery is available from 4:00pm to 11:30pm.
Disney Dining Plan: Food purchased at Old Port Royale uses counter service credits from the Disney Dining Plan. Most bakery items are considered snack credits . Shutters Restaurant uses one table service credit. You can add the to a .
Caribbean Beach Services for Kids
At 2pm daily there is a Jammin' Pool Party bash at the main pool located outside Old Port Royale. There are also a number of pool-side games and activities including Bingo, What's in your beach bag, Disney trivia and more. There is an Island Dance Party at 3pm and a Caribbean Campfire on Fuentes del Morro Beach at 5pm (all events are weather permitting). At 7pm each night is the 'Movie Under the Stars" - located outside Old Port Royale next to the Bannana Cabana.
Islands of the Caribbean Pirate Cruise is for children ages 4-12. Young pirates sail the Caribbean in search of treasure and adventure. Cruises are available Sunday, Tuesday and Friday from 9:30AM to 11:30AM. For current pricing, e is located at Old Port Royale and features a variety of video games suited for most age groups. This arcade is one of the smaller ones on property. The arcade uses the Arcade Card system which allows you to purchase points to play games. Cards are swiped at each individual game. Cards can be recharged with more points and points never expire.
- Babysitting is available through Kids Nite Out, Inc. - which is not owned or operated by Disney. Caregivers provide in-room services which include playing games, reading, and generally entertaining your kids. Services are also available through Kids Nite Out to plan parties and special events. Advanced reservations are required and services are available 24 hours per day. There is a 4 hour minimum for children 6 months to 12 years old. Cancellations must be made 24 hours in advance to avoid the 4 hour minimum cancellation fee. Reservations can be made by calling 407-828-0920.
Caribbean Beach Pools / Recreation
There are a total of 7 pools at the Caribbean Beach Resort, with the main pool - Fuentes del Morro - located outside Old Port Royale. The main pool features waterfalls, waterslides and water canons as well as a large childrens play area. The childrens area is for children under 48" tall and has a number of water features including squirt hoses and water slides. There is also a kiddie pool located here as well as a whirlpool spa.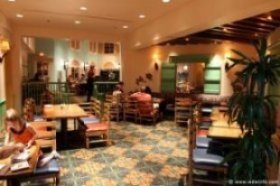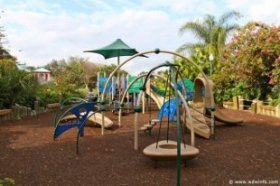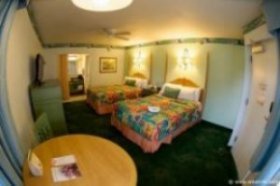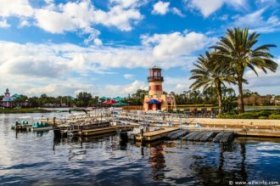 Share this article
Related Posts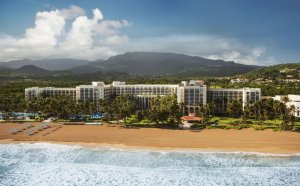 December 15, 2014 – 02:45 pm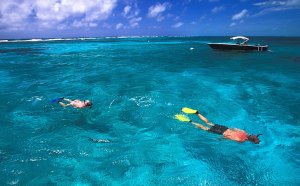 October 25, 2019 – 08:35 am