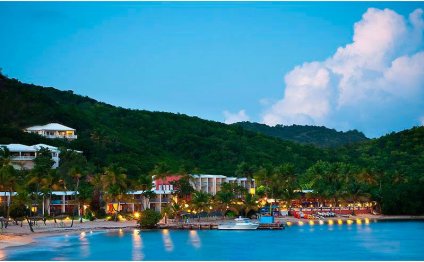 All Inclusive Beach Resorts for families
All Inclusive Resorts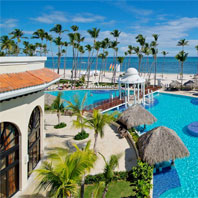 Enjoy a memorable vacation at one of our "Family-Friendly" resorts. Our collection of family vacations provides the best values at fabulous, high-quality resorts. At many resorts children stay, play and eat free! Organized kid's clubs and special activities for teens keep the whole family entertained all vacation long.
Paradisus Palma Real
All-Inclusive
Paradisus Palma Real Resort is surrounded by lush, vibrant tropical gardens, mangroves, and sparkling waters, and faces one of the most breathtaking white powder sandy beaches in the Caribbean. Guests can explore their senses on a culinary tour through 7 remarkable dining experiences featuring delectable cuisine and enjoy unlimited international premium brands drinks in 8 different bars. The Reserve section welcomes adults and families, and offers VIP amenities for adults as well as children.
IBEROSTAR Punta Cana
All-Inclusive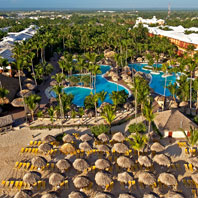 Beautifully situated on the famed Bavaro Beach, the Resort has a great selection of bars and restaurants plus offers the facilities of the Iberostar Dominicana to all guests. Almost mirror reflections of each other, IBEROSTAR Punta Cana, and IBEROSTAR Dominicana join hands to create one astounding Resort. Therefore, when you review the description of one hotel, combine that with the other, as you have two 5 golden apple hotels in one package!
IBEROSTAR Dominicana
All-Inclusive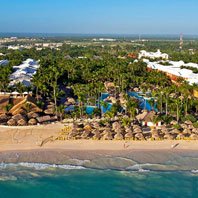 Boasting the best location on Bavaro Beach, the Resort is adjacent to IBEROSTAR Punta Cana and facilities of both are offered to all guests at either hotel. Double your pleasure! More restaurants and bars! Each Resort has ample facilities for its own hotel but gives IBEROSTAR guests the choice and flexibility to sample all of them. Even the two enormous pools run parallel with each other. Lagoon size, and buried in an oasis of palms. Enjoy either one!
Barcelo Bavaro Palace Deluxe
All-Inclusive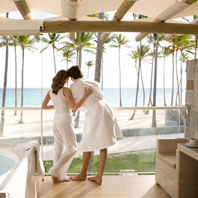 This all-new 800 room mega resort features three distinct, upscale hotel wings consisting of: junior suites and family junior suites located right on the beach, family rooms tucked back in their own private area, and a section of high end suites - Club Premium, Panoramic, Master, and Presidential - also located right on the beach. The resort also features a new Club House addition, home to the new restaurants, shopping center, sports bar, 24-hour casino, a world class spa, and much more, designed in a Las Vegas-style promenade with a Caribbean flair. Kids will enjoy games and activities at the Barcy's Kids Club,
Grand Bahia Principe Bavaro
All-Inclusive
Located within the largest resort complex in Punta Cana, Grand Bahia Principe has full exchange privileges with Grand Bahia Principe Punta Cana. There is something for every family member at this mega-resort and those larger families should look to book Family Junior Suites and Family Master Suites in the Club Premier Section which is adjacent to the new water park which opening late 2013
Barcelo Costa Cancun
All-Inclusive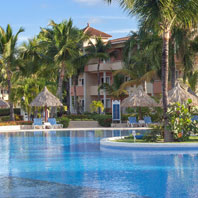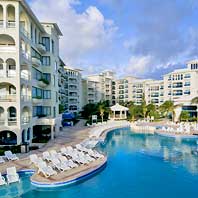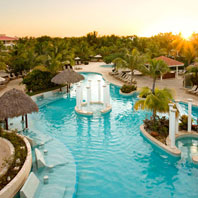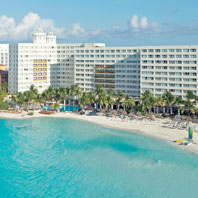 Share this article
Related Posts